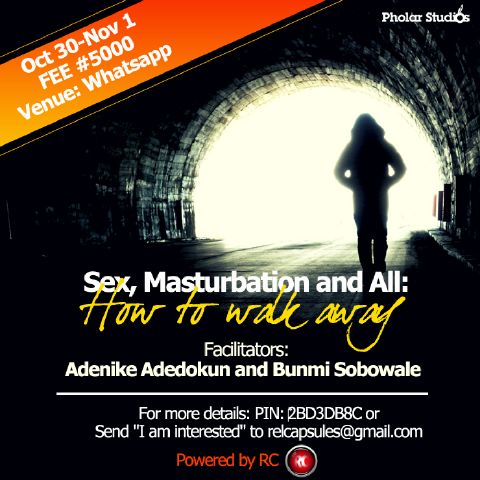 I needed help from masturbation because I felt extremely drained down spiritually and almost all the negative symptoms that comes with Mastubation were already happening effectively in my life. I was like a dead man everyday. I could be in the bed masturbating from midnight till evening even without bathing and eating.
I realised I was getting slimmer extremely fast. I'm even now slimmer compared to my twin brother.
I always feel dizzy. I feel a spinal cord pain…like a back pain when I get up.
Sometimes after getting up from the bed or from the chair, I won't be able to see early for some few seconds…. it seems everywhere is dark kind of.
I feel extreme pain in my private part. I mean real extreme one, that I can't hold it in pains.
I don't retain what I memorize as before anymore. It affected me personally mentally. I wasn't able to understand things I read anymore or as fast as possible.
The list are much. This was my own personal pains, others might experience less or nothing they are aware of.
Sometimes, I feel that my strength is drained after walking for some minutes I feel extremely tired…the way I will be breathing create conside… and people will tag me that I am Lazy etc.
But now the case has changed, when I meant Adenike.. my coach..She pitied me and decided to help me. I thought that her help towards me won't work. I had even already given up on the fight and decided that I couldn't be free. She then convinced me that it's a "mind issue". She is the first person I have ever really told about what I'm facing. Being accountable to someone has really helped me. Anytime the temptation comes, I remember her words "always have the end in mind". I chose not to focus on my weakness. Today I'm growing out from the yoke by always having the end in mind and focusing on the new person I want to  become.
Although it isn't easy. And Freedom doesnt come instantly.
I also was given an assignment by my coach to read a chapter of a book per day. That assignment was really a big deal assignment to me. I was always rushing up even when my eyes are extremely dizzy to read one chapter and send the feed back to her. The consequences of not doing that for a day, I didn't want to pay that consequence at all.
But normally, I was tempted one time when I was extremely tired to just read few pages and send the report to my coach… but I was like "Who is fooling who?"… "Something told me that, "then your money you gave to the coach will waste, you will continue living with your deadly masturbation habit"… then I was like, I must read this stuff completely and send to her. 
Sometimes after reading it, My dizziness leaves me.. and I act as if it's now during the day. This has helped me to be more busier in the sense that after reading, I willl have to sit down again looking at the whole summary of the whole chapter.
What this assignment did to me was that, it shifted my mind, and made me more busy and helped me create a new habit which is Reading Habit that will substitute the Masturbation Habit.
The major thing that hooked my mind were the consequences and gains in the assignment. It worked like Magic.
I would encourage others to be accountable to someone. Not just someone that would advise the person but that will scold and if possible to even command… and that won't condemn them.
They should also have the desire to leave the habit of Masturbation.
Their own self discipline is 70%..while that of the coach is 30%. They must be ready themselves to get freedom. As they build up their self discipline by doing the right thing, then the percentage of the help coming from the coach will begin to increase…and it will be working and be like Magic.
I will also encourage reading of the Bible depending on your religion. I do read my Bible extremely seriously before.. but I'm overcoming Masturbation and Masturbation  killed my zeal completely for reading the bible and that was a way the temptation could overcome me. So I will encourage that they read their bible and pray first thing in the morning not in the afternoon but morning.
I hope my story would help you take action and get ready to walk away from the addiction called "Masturbation".
Am glad you have patiently read his story, I want to help you too.
If you are struggling with masturbation, pornography, sexual lust, sexual activities, homosexuality and many more like this, I would encourage you to take a bold step to walk away by joining this online class coming up this month end from October 30- November 1.
Benefits like practical help, free ebook, follow up consultation and many more for as low as #5,000.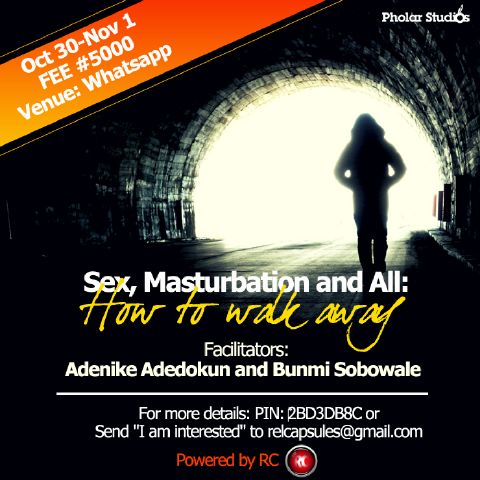 If you are interested, send "I am interested" to relcapsules@gmail.com or through PIN: 2BD3DB8C . You can also call 0816 335 5185 for more enquiries.
Choose to stay healthy and live purified.