Would you like to avoid another breakup?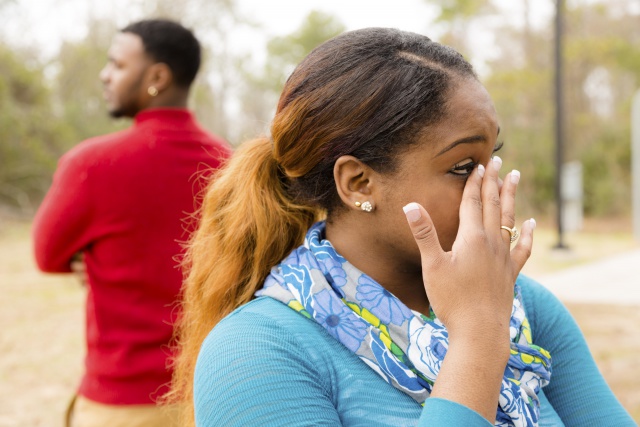 Have you wished you could get your partner to be all over you?
Have you ever imagined being the only one that can get his or her attention?
From experience, research and experiment, we have discovered that ATTRACTING the right partner can look overwhelming.
SUSTAINING a relationship can also be frustrating but what if you could get help?
You didn't rush into a relationship because you wanted to become cheap or because your life was worthless.
You just wanted to feel loved.
You wanted to share your world with someone else, you wanted to be able to share your life with someone that's worth it.
You really wanted to make your partner happy and you wanted to feel happiness too. You gave your all and everything in you. You were sincere, honest and committed. You didn't mind what your friends thought or how your friends saw a relationship as, you just wanted to build a sincere relationship that would blossom into the best thing that ever happened.
You finally talked to her.
You became his friend.
He proposed and you promised to think about it.
She finally gave you a YES and your world become brand new. You looked forward to the best relationship that would graduate into the best marriage.
Finally, you did your best, you gave your body, money, support and all you had. You even paid her school fees and sponsored her.
You cleaned his house and laid his bed. You spent nights and nights acting as a wife. You gave him all the wife benefit and yet he cheated on you. You told him all your secret and yet he turned around to hurt with them.
You promised to take care of her, you bought her the latest dress, bags, phones and Hair. You made her the envy of her friends. You even boasted of how much you trusted her with your friends and she ended up double dating.
You even caught her in bed with your friend or another man. Or maybe you caught her sextexting with a man on her phone. Whatever the case may be, you feel hurt and betrayed. Your friends made you a laughing stock. You feel depressed and frustrated. You have seen your friends build healthy relationship but all your efforts have landed you in messy relationships.
You have read all the dos and don'ts of a relationship. You have even attended seminars but they have only told you about the surface parts of a relationship and not how to settle some deep issues that keeps reoccurring. You may even notice you had temper issues, nagging issues, jealousy, pride, laziness, and everything your partner kept complaining about.
You are trying to change, you have done enough and you are tired.
I see your hurts and pains. It has eaten up your happiness. It has taken away your pride as a man and your worth as a lady. You feel used, jilted and dumped. You feel life is over. You don't know where you went wrong, it seems the world hates you.

They have even laughed at you or mocked you indirectly.
It's time to become the valuable person that can attract a better partner.
Hold on!
Don't give up yet.
It may look bleak but there is hope.
You even stumbled here because light is about to shine on you to set you on the right course.
I'm glad you found this page, I'm excited for you. You know why?
Hello attractive one,
My name is Nike Adedokun, and I am deliberately helping singles deal with breakups, avoid it and reposition them for a healthier life, mind, relationship and Sexuality.
As a results coach, I do this via consultancy, strategies and training live and online.
After going through lots of betrayals, rejection and addictions, I can as well tell you what it took me to get positioned.
I didn't know my values had been tampered with by ME unconsciously. I didn't know the pains and baggage of the past had taken over my original self. I wanted to settle for less, I wanted to feel loved at all cost. I was busy working on my external part and ignoring the real me, ooouch, that feels bad to know but self awareness led me to self mastery. I am a daily work in progress. I am better than I started.
I am helping others reposition themselves too. Let me help you.
YOU NEED TO STOP THE CHAINS OF CONSISTENT BREAK UPS
Few years ago, I fell in love and showed love all through. I cooked for him, laid his bed and did all I could to keep him but after few months, he got tired. He even said I was a good girl, homely, good for a wife but may not be his kind of woman after all. He broke up with me. I almost died. My heart fainted.
I knew I would make a good wife. I had all a man would need but he just rejected me to my face. He must be kidding right?
I totally felt empty. I wondered what else he wanted. I wondered what was wrong. Whatever it was, I didn't know. I kept fighting for his attention. I cried, pleased him, begged him, all fell on deaf ears. It even pushed him away. I thought it was all over for me but I was joking.
Looking at me now, a bundle of value, strength, grace, and attraction. I would never have believed I would get this far, be happy with a man who loves and respects me, all because I chose to get repositioned.
Now people don't get attracted to me merely for my body but for my value. They want to be associated with me, they want me as a wife, yippee, that's interesting you know? Did it just happen? No! I had to go through training, coaching, and so many other tools that brought out the real deal in me.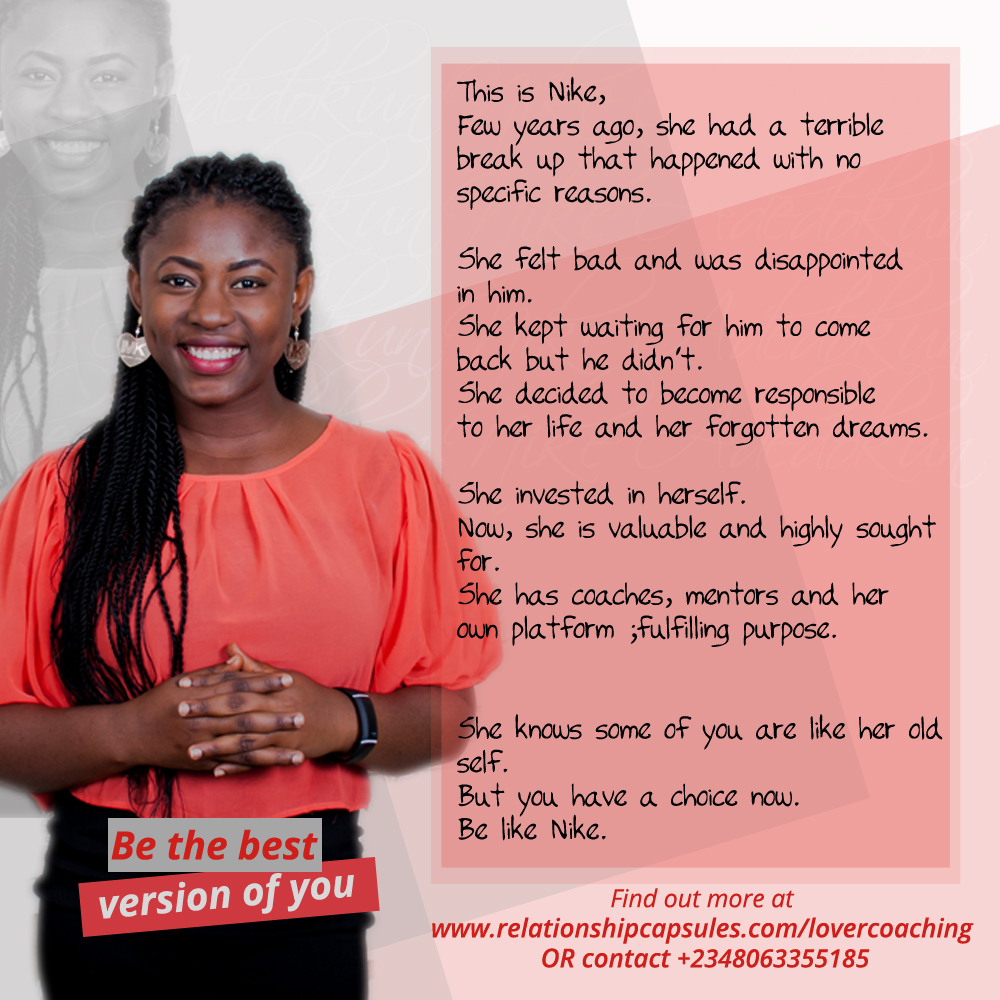 I am willing to show you how. I don't want you to feel frustrated and depressed anymore. You are worth more than that, you are a unique being sent to do excellent things. Why should you settle for less?
I can help you get repositioned. You can avoid that breakup now. Make him or her want you.
I had a breakup in view, I felt it was the end of the world but I booked a session with Coach Adenike and she turned my heart away from the break up to myself especially. Right now, I am living a different life and chasing purpose, I am grateful I have the strength to face life now. He is amazed at who I have become now.–Moyosore
My relationship had issues, I felt that was the end but I had to talk with Adenike and after our session, it did not take more than a day to fix my relationship back. It feels brand new again. I have officially made her my relationship coach and she guides us too. Thank you coach- Mustapha
Let me introduce you to the two programs I have for you:
HOW TO MAKE HIM WANT YOU: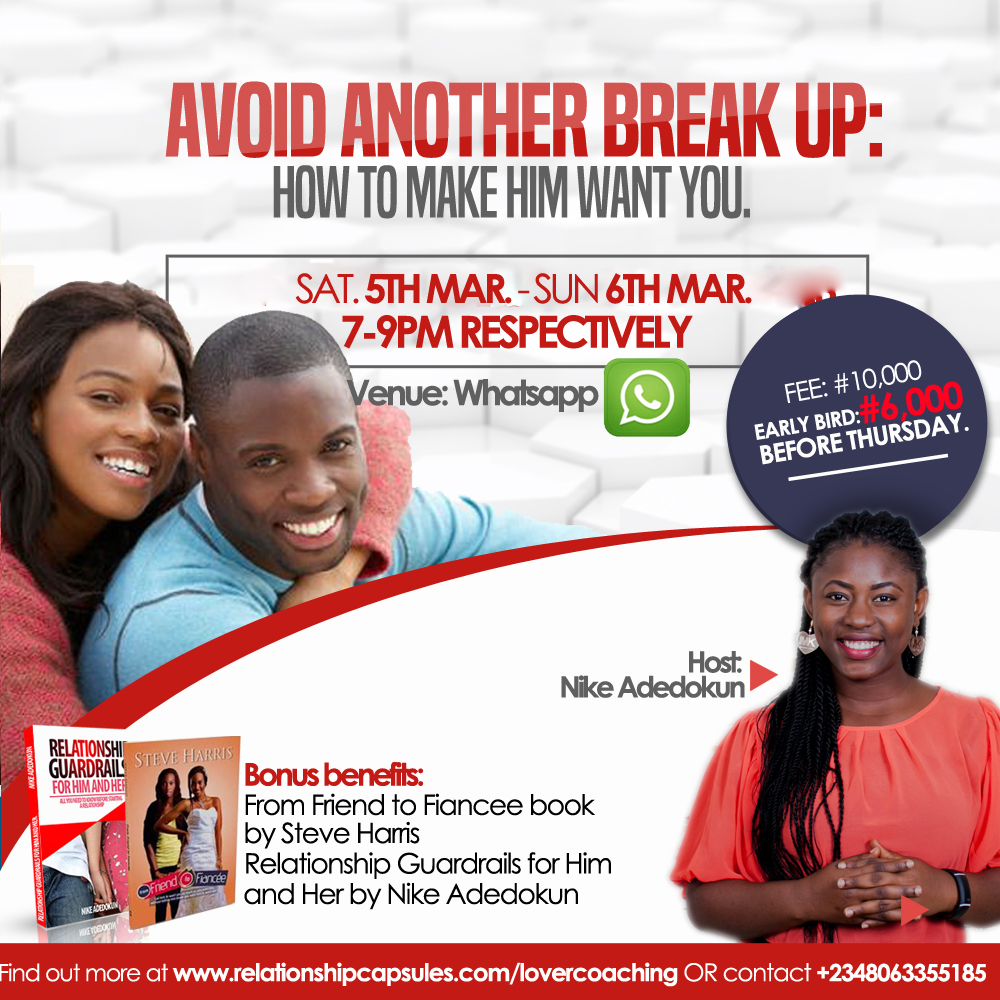 HOW TO MAKE HER WANT YOU:
Nike completely changed my feelings and state of mind in less than 30 minutes. When we started our session I was sad, crying and feeling defeated in my relationship. Then very quickly she gave me some small but powerful things I can do to create a better relationship and change. I felt like a burden was lifted and I felt like there was hope again. I was even laughing at the end of our session. Nike knows what she is doing. – – – – Ayo Agboola
In this Masterclass, you will:
Understand why you have been getting it wrong and make things right.
Observe and eliminate every pattern and belief that have messed you up.
Have a mindset reset that would change your perception and give you a clearer glimpse of the ideal relationship that can lead to a blossom marriage.
Elicit your values because you need to settle down with a person with similar values. We would discover yours and help you spot it in your intending partner.
Find out your love language, temperament and personality traits and to incorporate it in your relationship.
Help you discover purpose, chase greatness and become a valuable asset.
When you are done with this program, you would
Appreciate yourself more and project positive vibes .
Understand your model of the world and help you become emotionally intelligent.
You would have confidence, a vision to pursue, clarity in life and a pillar to hold on to.
The men would be having a special guest on their platform. Meet him
Akpoveta Valentine, a leadership and management development consultant who can help you become an asset.
Aside for the class, you would have free bonus like:
FOR THE MEN:
-PRACTICAL SESSIONS
-FACEBOOK SUPPORT GROUP
-THE MONEY BOOK BY LANRE OLUSOLA WORTH #3000
FOR THE LADIES:
-PRACTICAL SESSIONS
-FACEBOOK SUPPORT GROUP
FROM FRIENDS TO FIANCEE BY STEVE HARRIS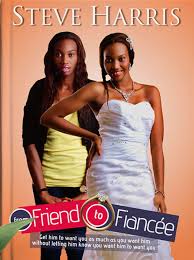 COMBINED GIFT:
RELATIONSHIP GUARDRAILS FOR HIM AND HER BY NIKE ADEDOKUN (Yeah! That's me)
Distance isn't going to be a problem because it would hold online.
VENUE: WHATSAPP/EMAIL
WE WOULD BE HAVING TWO DIFFERENT CLASSES TO ENABLE US TALK SINCERELY TO EACH OTHER ON PERSONAL MATTERS.
DATE: MARCH 4-5 (FRIDAY-SATURDAY) FOR THE MEN
MARCH 5-6 (SATURDAY-SUNDAY) FOR THE LADIES
FEE: #10,000 BUT YOU CAN PAY #6000 FOR EARLY BIRD DISCOUNT BEFORE MARCH 3
TIME: 7-9PM
PAYMENT MODE: PAY TO GTBANK: NAME ADENIKE ADEDOKUN O.
ACCOUNT NUMBER: 0050407100
After payment, send your Whatsapp name, payment details and Whatsapp number to nike@relationshipcapsules.com
Don't forget to share this news. Go ahead and press the share button.