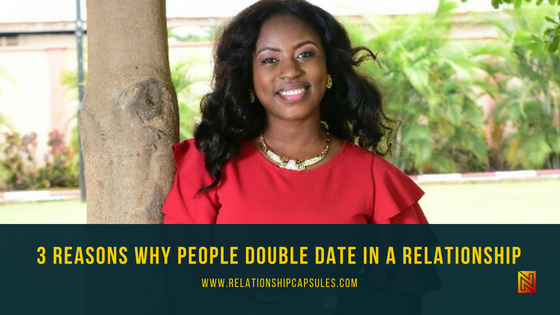 Who doesn't like the mixture of rice and beans or yam and beans in a plate? Even though they can stand as a main food, the combination always tastes nice too. That's the temptation that occurs when we try to double date for different reasons like more varieties, back-up plan and for security/certainty.
What you refuse to admit is that you are afraid of getting hurt. You avoid being vulnerable because you don't want to get too deep with someone who may have other plans in a relationship. So why do people double date?
For the fear of losing the only one they trusted: It's really not easy to put all your baskets in one egg because it requires a focused energy and passion. So what happens after dating for four years and it ends up for reasons that could have been avoided? When your heart has been broken severally, it becomes easy to divulge other means to stay protected, does this truly help? Humans are motivated by CERTAINTY and the quest for assurance makes people try out different secured means of dating which may eventually lead to a dead end. In the bid to find the most compatible partner, some people choose to try different people.
Due to experiences: Some people grew up with a mentality to double date because of the many stories they have heard and the experiences they have had. If you saw your older ones go through stress in a relationship, it could influence you to try out different people. It could also be because you want to prove smarter than others or possibly see if you can cut your cake and eat it too.
For selfish reasons: Some people wants more partners that can sort their bills or warm their beds hence they have multiple partners who can attend to all of their personal needs when they want. They are not interested in the commitment part of a relationship but are most likely all about the shiny things. Some see relationships as fun so end up testing many souls till they find satisfaction. They seek for happiness which is temporary.
Whatever reasons you may have, you need to understand that double dating is a sign of lack of clarity on who you are and what you want. It's also a sign that you are in for what you can get. When you have discovered yourself, it makes it easier for you to decide who you want to spend your life with. When you understand your values, it makes it easier for you to look out for it in others. Knowing your worth helps you stay focused on friendship before delving into a relationship.
At this point, ask yourself what you truly want. Are you just dating to feel secured in the hands of someone or you are only trying to protect yourself. Would you rather get hurt and learn major lessons from your experiences than live a double life that leaves you lying to yourself?
After choosing your answers, take time to understand that for every relationship that broke up, there were signs or red flags you ignored so focus on learning how to spot these red flags and save yourself from more crashes. Even though you suffer from some break ups because some people don't even know what they want also and might discover they never wanted to be with you, you would have grown wiser in the whole process and build more of friendship.
Most important, be led by God in your choices. When you pray ahead of your plans, get wisdom and stay positive, you will end up being more careful, watchful and observant. When you invest in relationship coaching, it helps you stay away from time wasters and identify red flags easily like I explicitly shared my experience in my book "HOW I GOT THE RING".
What are other reasons do you think people use as an excuse to double date?