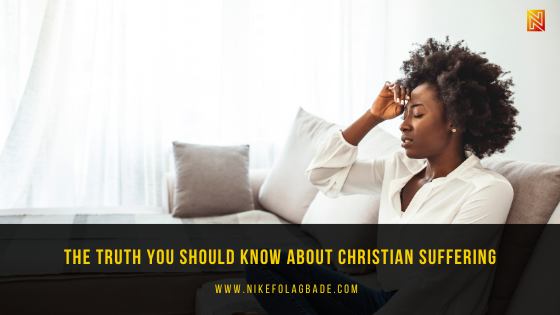 Currently, one of the unpopular sermons of our spiritual maturity journey is the suffering we experience in our walk with God.
Some years back during my extended stay in Benin, I used to see an inscription on the wall of the building opposite the house I lived in. It reads, "Life with Jesus is a life without crisis."
Every time I saw this, I would ask myself, "Nike, if this saying is true, then why are you experiencing crises in some areas of your life?"
I soon found out that Christianity isn't solely filled with sweet and loving moments, there are periods of suffering too. If you don't go through a semblance of the sufferings of Jesus Christ, how do you experience and share in his glory? Isn't Jesus our model again?
We are hard-pressed on every side, yet not crushed; we are perplexed, but not in despair; persecuted, but not forsaken; struck down, but not destroyed— always carrying about in the body the dying of the Lord Jesus, that the life of Jesus also may be manifested in our body (II Corinthians 4:8‭-‬10 NKJV).
👈🏻👈🏻👈🏻Did you soak that scripture in?
So for years, we have interpreted pain, persecution, and oppression as a sign of rejection by God.
Here is the crux of the matter:
For our light affliction, which is but for a moment, is working for us a far more exceeding and eternal weight of glory
(II Corinthians 4:17 NKJV).
Those who would rise into the glory that is powered by the altar of God must go through certain seasons and processes.
The hiding stage: There will be a time when you feel like you're not relevant, visible, or trending. People may even look down on you but unknowing to them, you can be in the cave of Adullam — being forged by God.
It is necessary for God to hide you because relevance comes with a price. In order not to faint, fail or fall, you must be established in God first. Please know that you aren't lesser than those who are shining. Don't look down on your current phase. Stay in your threshing place.
There is a process every son must go through. If you're not going through that discomfort, discipline, and chastisement, I doubt your sonship. 😁😁
You therefore must endure hardship as a good soldier of Jesus Christ. No one engaged in warfare entangles himself with the affairs of this life, that he may please him who enlisted him as a soldier. (II Timothy 2:3‭-‬4 NKJV).
Though He was a Son, yet He learned obedience by the things which He suffered (Hebrews 5:8 NKJV).
But if you are without chastening, of which all have become partakers, then you are illegitimate and not sons (Hebrews 12:8 NKJV).
Are you now convinced or do you want more scriptures?
Having read the referenced scriptures, why then is our generation denying God because of a season of discomfort?
Your marriage has issues, do you immediately leave? Your finances are low or unstable, must you resort to illicit activities? You have been single for some time, should you wreck another person's marriage?
Single ladies, why are you fooling around with married men? You know their family members, yet you persist in secret affairs with them?
Single men, what is it about the new trend of "blowing quickly?" Why do you derive so much pleasure in sensuality? You lust around now, only to find yourselves struggling with commitment in marriage.
What is your sonship process?
How are you denying yourself?
Why are you easily influenced by the world?
Personal discipline: It is important to deny yourself at some points. Not every song, trend, and pleasure is for you.
I have been crucified with Christ; it is no longer I who live, but Christ lives in me; and the life which I now live in the flesh I live by faith in the Son of God, who loved me and gave Himself for me (Galatians 2:20 NKJV).
Let no one deceive himself. If anyone among you seems to be wise in this age, let him become a fool that he may become wise. For the wisdom of this world is foolishness with God. For it is written, "He catches the wise in their own craftiness
(I Corinthians 3:18-19 NKJV).
Do not fret because of evildoers, Nor be envious of the workers of iniquity. For they shall soon be cut down like the grass, And wither as the green herb (Psalms 37:1-2 NKJV).
Don't hastily envy people achieving great feats and impacting their world. You don't know the price they are paying. Be careful not to judge by the peripheral accomplishments you see, there is a depth to success than you can imagine.
I hope you are encouraged to stay in your race faithfully. Don't throw in the towel. Your rewards are with God and they outweigh the enjoyments on earth.
Let me leave you with this scripture 👉🏼👉🏼👉🏼
Resist him, steadfast in the faith, knowing that the same sufferings are experienced by your brotherhood in the world. But may the God of all grace, who called us to His eternal glory by Christ Jesus, after you have suffered a while, perfect, establish, strengthen, and settle you (I Peter 5:9-10 NKJV).