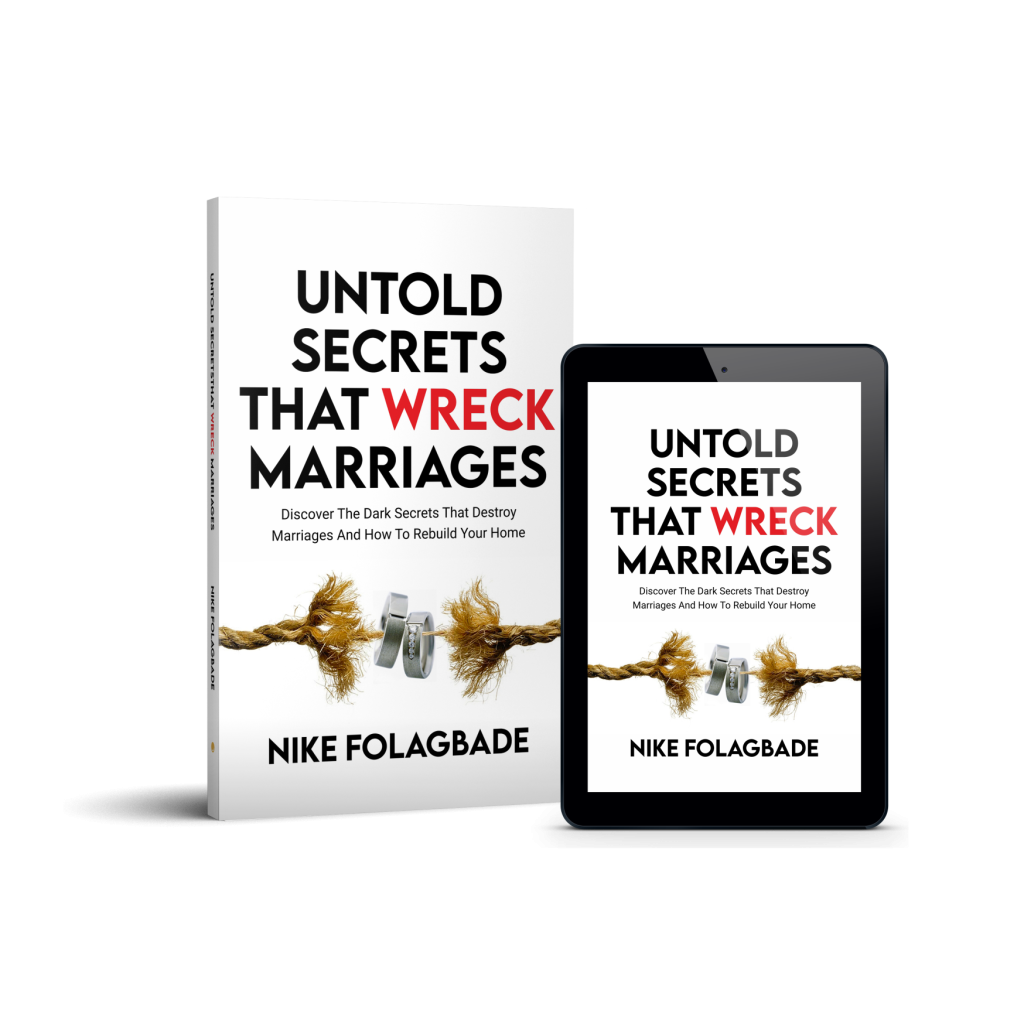 Find Out What Causes Most Of The Breakdown of Marriages in The World Today and How To Rebuild Your Home
Filled with Practical insights, divine revelation, and real-life experiences that will draw you nearer to God and show you how to partner with Him to make your marriage work.
Watch Untold Secrets That Wreck Marriages Video Trailer
WHY YOU SHOULD READ THIS BOOK
A lot of people have given up on rebuilding their marriage due to unmet expectations, painful experiences, unanswered prayers, consistent adultery, rejection, emotional withdrawal and disconnection.
People get married and begin to experience situations that discourage their idea of a happily ever after but it is not too late. God is rebuilding homes and restoring broken unions in this season.
As I spent some time with the Lord in 2020, I heard His voice clearly saying it was time to write the book He had prepared me for in the early season of my marriage and now. After taking me through a deep work, painful trajectories, and confrontation with the kingdom of darkness, God handed me deep secrets about the family space and won numerous battles in the process for me. He has done a deep work of healing, deliverance, victory, restoration, transformation, and deep connection in my life for your sake, He wants to lead you into the same victory too.
This book is definitely a gift to this generation. It is an exposé on marriage God's way. Going through the book helped me understand the reason behind certain happenings we hear of. I love that the book not only exposes the works of darkness that militate against God's agenda for marriage, it gives us understanding and empowers us with the mindset, wisdom & strategies needed for victory. With this book, you're sure of your marriage fulfilling God's agenda for it!
It only took reading the first few pages of this book to know without a doubt that the power of God was strongly upon it. Nike has received a weighty liberation mandate and Untold Secrets that Wreck Marriages is a powerful tool for the redemption, restoration and deep healing of ailing marriages. This book contains revelational knowledge that could only have come from the Holy Spirit. Be prepared! It's not a regular book. This is deliverance! It is a navigational tool for singles who want to experience marriage God's way and a must-have resource for the married who desire their marriage to be everything God wants it to be.
As I gleaned through the pages of this book, I felt the presence of God so strong releasing Purpose and Hope within me. Each line was laced with the Authority in the name of Jesus. I couldn't resist the Word of His power inherent in the Book hence I submitted to its purpose. With this great revelation in view, I planned to re-read the book to experience again a greater dimension of the Light of God as it exposes the Darkness lurking in me and my marriage. I pray for an open mind for as many that will be privileged to handle this peculiar Book. The Book will fulfil the purpose in which it was created in them and their Marriages in Jesus name.
The gems in this book are just awesome. This book truly highlights with deeper understanding the secrets that wreck marriages and Coach Nike has been able to open my eyes to these secrets and also given solutions on how to over come them irrespective of how deeply their negative effect have been, a complete restoration is possible and achievable. This book will also help you to understand God's original intent for marriage. I had myself stopping to pray while reading this book. It is a must have for everyone seeking to have a truly blessed and beautiful marriage experience. For singles who want to do marriage God's way, this book serves as a powerful guide
This book for me has been a fresh ray of hope and encouragement. I know God is with Coach Nike the writer as I have been privileged to join the warrior bride classes which is her initiative. However reading this book has further strengthened my faith and filled me with courage for the task ahead of me in my marriage. I have been praying as I read and I know God is healing my heart. I cant wait to finish reading.
UNTOLD SECRETS is one of its kind. I haven't come across such an accurate and detailed knowledge concerning marriage before. This is the kind of book you read over and over again because the truths revealed are so deep! As a single, I found the revelations shared so powerful and I found myself praying several times in the course of reading. The experiences and instances are accurate as it rightly depicts plaguing many marriages today. I see this book as a revival tool in the hands of God to raise and restore Godly homes in these last days, where His will is done and the head of the enemy bruised. God bless you ma'am for yielding to the master's call.
This book is for singles, married couples, pastors, counselors and anyone who works with families.
Does any of this sound familiar?
The Goal of this book is to help you:
The revival, transformation and the change the whole world has been yearning for will of course starts from the family.That is why we cannot talk about transformation without talking about marriage. As a minister who has been privileged to go through few chapters of this book "UNTOLD SECRETS THAT WRECK MARRIAGES" , I'm convinced that this book is going to be a tool that will transform marriages across the globe.God has commisioned His daughter Nike Folagbade to help marriages that are going through difficult times to get direction, clarity and complete restoration at a time like this. As a minister who wants the body of Christ to experience tremendous turnaround in this sphere, I encourage you to get this book and also encourage your members whether married or single to get it so as to prepare us for the strategies the devil may wants to use to fight our marriages and how we can overcome him with kingdom strategies that are documented in this book. Prepare for a massive turnaround in your marriage as you lay hold on it. God bless you.
The book met me at a point my husband was getting tired of me, I was in charge cos I felt I was better than him. That book opened me up to the mistakes have been making thinking I was actually doing the right thing. My sister, I discovered that as firebrand as I am, I needed a fresh visitation by God. Sister, that book raised guilt in me and I had to think. Because my husband and I are different in our Spiritual background and orientation, I felt I was better but now am ready to patner with the Holy Spirit to make my marriage better. My husband is loving me more and I am NOW OPEN TO CORRECTION. Thanks sis for yielding, and my soul bless you! I'm still reading the book, I can never even finish soon!
Nike Folagbade is a Marriage Minister, who has been sent to the family sphere to cause a revolution and revival of God's presence in homes today.
With an assignment to teach people how to host God's presence in their homes and raise children as battle axes in the hands of God, she is operating as a minister, equipper, nurturer, and catalyst in helping men and women transform their marriages, using godly paradigms/ principles and teachings on God's healing power and deliverance.
She is the founder of the Marriage Redefined Community on Facebook. Warrior Brides Network is another feather to her cap, which is a 12 weeks faith-based discipleship program, that expounds on the use of the Two-dimension of the "Two-Edged Sword" (wisdom and power) in activating a transformed life and marriage.
She is a Master Practitioner of Neuro-Linguistic Programming, Results Coach, an Associate of Family Systems Engineering, a certified Emotional Intelligence and Anger management coach. In addition to these designations, she is a SYMBIS facilitator in helping singles and married prepare, before and after they get married.
I came in contact with Nike in 2018 through her book, started following her since then and I must say that she is a woman fully about God's business! At every point her words have always been seasonal(right on time kinda thing), she recently gave out an eBook for free! And I must add the content of the book is worth a million-dollar.
I started following Nike Folagbade a few years ago as l fell in love with her content for singles and unmarried. I used to forward her post to my unmarried mentees. Along the line l noticed she also ventured into issues on marriage and l must tell you that she is doing a fantastic job mending homes. Her sessions are always lit and she has a passion that is beyond the ordinary. She currently runs a 12 weeks Warrior Brides Network program and for everyone signed on it has been a rewarding time. I can say there are recurring testimonials from the participants. Her messages are eye-opening and refocus on the need for true intimacy with God by Hosting His Presence in our lives.
Ever since I met Pastor Nike, which was divinely orchestrated and joined her program, not only have my identity, spiritual life and my mind set towards my marriage been transformed, l have enjoyed the peace of God in my heart like a river, which I have always thought was a fiction. She has equipped me with practical godly approaches, to taking charge of my mind, marriage and situations around me, which seek to rob me of God's purpose and victory for my life. I have never encountered someone as passionate and humble as Pastor Nike, who pours her soul out to people, in order to see to it that the presence of God is hosted in their lives and marriages, thereby casting down the stronghold of darkness that has besieged most marriage.
Nike Is God sent to this generation where marriage are being attacked by the forces of darkness. I stumbled on her page on IG while eagerly searching for answers to some of my marital matters which could have broken my marriage. I reached out to her and she held me by the hand and I am currently undergoing her tutelage under the umbrella of the Warrior Bride Network championed by her and I dare to say this program has been my saving grace.
I have said many times that you are an answered prayer for me this season. Following your post on Facebook was first an eye opener because you were teaching and saying things by the spirit of God that answered the challenges I was going through in my marriage. Then I was opportune to join the warrior bride network and it's has been explosive. I and all the women in that group have received wisdom, teaching, fellowship and growth in our lives first and then our marriage. We come sharing testimonies of grounds we are covering in our homes, healings we are receiving, victories we are getting and transformation in every area of our lives.
Coach Nike has truly been a blessing in my life. I first came across her during her Unaddicted program last year and through that program my life has never been the same. I have been privileged to be under her mentorship through her single and married discipleship programs and they are nothing short of awe and total transformation. Coach Nike is very passionate about kingdom marriages because marriage is the first institution God created and it is the foundation of any society. From marriage comes families, then comes communities , which leads to cities and nations. This means that marriages must be done right, God's way before we can see transformation in our nations, and this is exactly Coach Nike's mission, led by God.
Not ready to buy yet? Download a free chapter to see a little glance of the book
Connect With Me On Social Media
Your book will be delivered between 2-3 days in Lagos and 5-7 days for outside Lagos.
PREFER TO PICK UP AT A PICK UP CENTER? You can get a copy from BOOKPLAZE AT GBAGADA PHASE 2, LAGOS. Click their link on Instagram here to buy a copy. 
You can pay to NIKE FOLAGBADE INTERNATIONAL, GTBANK, 0478825692
Before payment, kindly click on the button and initiate the process to see the cost of your delivery so you can add it to it. You can also do a direct payment through the payment platform. 
After payment, kindly send an email to hello@nikefolagbade.com with your full payment details.