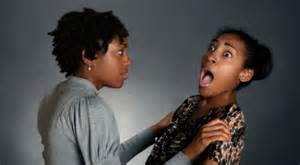 Have you ever been scared of getting married and dealing with husband's female family members?
Have you ever wondered how you would cope?
Some even go as far as praying that their future partner don't have sisters or mother alive. Loooool.
It is that bad?
I believe that no matter how wicked, harsh and aggressive a person can be, there is always a way of unlocking their kind spot. But you would agree with me that some don't ever get moved by how nice, humble and respectful the wife is.
This post is to share my thought on what ladies should approach family matters.
Why become a terror to your brother's wife? Why act like your son would marry you?
Truth is, the way you treat her determines how you would be treated too.
I keep wondering why some ladies enjoy poking into their son's and brothers affair. For me, I don't and I repeat with confidence that I have never had issues or planned to have issues and I don't expect to get such treatment too. It has been quite easy for me.
Most of these ladies throwing out terror actually have problems with themselves. They don't seem to understand their worth and so they can only survive better by being a terror to someone out there.
Are you still praying for no mother and sister? Quit that, why not position yourself in the way you want to be treated and focus your mind on being likeable.
What you think of automatically becomes a living action.
I would seriously love to know your thought on handling sisters-in-law and mothers-in-law.
Please share your experience or another approach to dealing with them to help others.