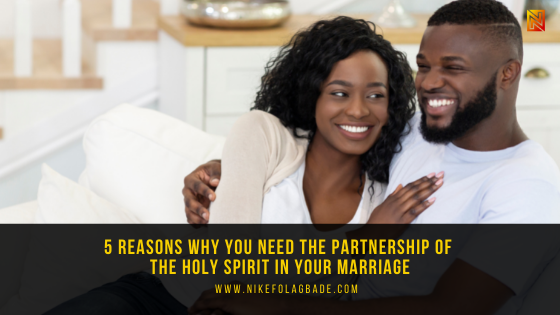 There are so many challenges that occur in marriages today that people even struggle to deal with. Many people are walking away from their marriages or living as strangers because of the challenges they are facing. Aside from issues of abuse that God is against, there are diverse ways that God can help you establish a kingdom marriage. Here are 5 benefits of partnering with the Holy Spirit for the transformation you seek in your home:
HEALING: Your spouse will offend you severely. For some, you will get an instant apology, some a future apology and for some issues, pride will set in. this can make you feel offended and cheated. There is a chance of an increasing rise in resentment in your heart. The deeper the resentment grows, the more you become emotionally unstable. No man can ever solve all your problems or be perfect, hence you need the constant love, care, and healing that the Holy Spirit alone can give because He is your comforter. He is the source of your identity.
WISDOM: There are so many challenges that will arise in your home that requires divine wisdom, and this can be an opposite pathway from the world's way. Since the Holy Spirit is the one who stirs and knows the heart, you stand a higher chance of walking in ease and grace when you tap from the wisdom that flows from your conversations with Him or your time in the Word. Your spouse may act difficult and your in-laws may look devilish to you but the God of secrets is able to make all things work when you are led by His truth.
REVELATION: There are times that the enemy seeks to create a gap in a home through manipulation, twisted communication, betrayal, generational patterns, difficulty with conception, etc., In these moments, you need more than self-help books can provide, you need LIGHT. Discernment is one of the gifts of a believer and the more you grow in the knowledge of Him, the more He will begin to show you things you need to tackle from the foundations.
STABILITY: A home can be peaceful when wisdom is on display. The constant strife, unrealistic expectations and exaggerated desires can be stabilised when you have the Holy Spirit leading you.
GROWTH: Marriage is not the end of life, God has created you for a purpose, the more you spend time with God, the more He opens your eyes to ideas, assignments and secrets that can make you elevated and upgraded. You are not meant to be mediocre or average, you were created to transform the world in your own little way, find your uniqueness in God and watch Him manifest through you for His glory. This will also help your marriage to thrive.
Do you desire to grow your relationship with the Holy Spirit?